"Click" to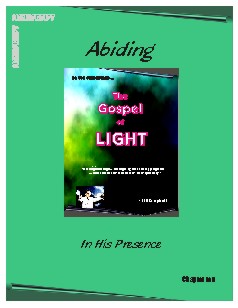 by Bill Campbell


... taken from ... Abiding




... page 83





The Blood of Jesus


I want to break with "all" tradition at this point. I want you to forget everything ... that you "think you know".


When you are facing death, ... there is no good answer that has the power to stop it. Death will eventually defy every good philosophy that you have. You might have a "good argument". You might have been religious. You might have prayed, but, ... you're going to ... die anyway.


That's what Jesus faced, ... in the Garden of Gethsemane.


Your beliefs, arguments, and traditions, may work for awhile, here; but, they won't mean a thing ... when you're getting ready to ... pass into eternity.


I want you to stop, right now, ... and hear the cry of the Word of Salvation. (maybe, for the first time)


Some of you may say, "O, I believe in the blood of Jesus". But, you didn't "see" Jesus' blood, and you didn't "touch" the blood of Jesus. In ancient times, the people "saw" the blood, and they "touched" the sacrifice; and they said, "this is my sacrifice to the Lord God Almighty". It was theirs.


But, ... You; You are a child of the modern age, ... sitting here, and saying that Jesus is your "sacrifice". You sing your hymns, you've said your prayer. But, you don't know what most of it ... means. (you're trusting somebody else)


You need to stop. You need to stop. You need to stop, and get this figured out; ... this thing that you're doing. Why "blood" ? Why ? Why ... the "blood of Jesus" ?



... page 84



Faith


The important issue, here, is that we are ... "returning to God".


Salvation, isn't ... "so that we can get to heaven". We need to turn from our carnal ambitions, and return to the Ruler of all life. (that being God) When we return to God, ... we are returning to ... a Spirit.


"God is a Spirit, ... and they that worship Him, must worship Him in ...Spirit ... and ... in truth". (Jesus - St. John 4:24)


I want you to know that when Jesus and his disciples shared the "Communion" at the Last Supper, it wasn't the real blood of Jesus, either. They didn't drink, or touch, the blood of Jesus; but, they did drink the cup of wine that was passed to them. It was a representation of ... the testament ... in "his" blood. (St. Luke 22:17-20)


This salvation ... that we are reaching to, is not one of the physical realm. This salvation of God, is Spiritual, and eternal. This is why, whether we live in the first century, or the twenty-third century, we have access to it. It relates to our "spirit". (that which "is", and which passes ... into eternity)


We are "connected" to the Spirit of God, ... not through physical means, but rather, through the obedient "faith" of our spirit. (we are talking about "spiritual" things - St. John 3:1-8)


When God's Spirit calls our spirit, we follow "in obedient faith".


It is possible ... to be associated with a religion, be baptized, take communion, love everybody, say prayers, and still be lost. All because of ... "no obedient faith". Our "faith" is the "bond" of our spirit ... with His. It is called upon by His Spirit ... to be "united", and "active" with Him. (St. John 3:16-21)



... page 85



The "Uniting" of the Spirit with God's Spirit


The Holy Spirit spoke to the apostle, Peter, and told him to go to a certain man's house to preach. (Cornelius) An angel also spoke to the man, and told him to send for Peter; and so ... the meeting was set up. (Acts ch.10)


As Peter preached about how Jesus Christ was sent of God, and anointed of God with the Holy Ghost and power, to heal and set free from spiritual oppression, ... faith was rising in the hearts ... of the listeners.


Peter continued, ... How that Jesus was killed, but then, rose from the dead, and how that people were witnesses to this "phenomenon", ... and how that the prophets agreed that whoever believed in Him (his message) ... would receive remission (forgiveness) of sins. (St. John 5:24, ch.6:63)


Peter told how the Holy Ghost ... was moving among the people, and that ... God's salvation was being expressed.


"While Peter was speaking, the Holy Ghost fell on all the people that were listening, ... and they were heard speaking with tongues, and magnifying God. (The gift of the Holy Ghost was poured out upon them) And so, they were baptized in water, in the name of ... the Lord." - Acts ch.10


This is a good example of how the expression of the Gospel of Christ, rather than, the gospel of tradition, "unites" the spirits of the people ... with the Spirit of God.


The gospel of Christ ... always produces Holy Ghost ministries. The gospel of tradition has always only produced "converts". Instead of counting "converts", ... we need to be looking for Holy Ghost ministries; ... for "real" fruit is always reproductive.



... page 86




"And he took the cup, and gave thanks, ... and gave it to them, saying, "drink all of it". For this is my blood of the "new testament", which is shed for many ... for the remission of sins." - St. Matthew 26:27,28




The "testament" in my Blood (Jesus)


You may not have seen the actual blood of Jesus, that is the foundation of our faith (oneness with God), but, God saw it; and this is ... what it means. "testament" - Gk. "diathe'ke'


- dia - a "channel", or "through"
- the' (theo) - God
- ke'i (ke'imai) - to lie "outstretched", "prostrate"



When you think of having oneness with God because of the "blood of Jesus", you are placing your "agreement with God" in His "diathe'ke' (testament) ... "God's outstretched channel".


This is the "diathe'ke' (testament) of ... the "Salvation of God" for mankind. God's channel "through which flows His testimony".


His "Word", ... as it flows, ... "sets free", ... "creates", ... "heals", ... "draws to oneness", ... "gives direction", ... "calls", "anoints", and "sends", ... "plants vision", ... "plants praise and worship", ... "plants truth", "plants boldness", plants faith, and "authority".


The scripture has said that "life is in the blood". (Leviticus 17:11,14)
The Gospel states that the "Word became flesh, and lived amongst us, and we beheld His glory. (St. John ch.1) This "flesh and blood" is unique. It's the "blood of Jesus, the Christ", the "Word", the "Son of man", the "only begotten Son of God".


(1 Peter ch. 1,2,3,4, Revelation ch.1, Hebrews ch.9,10, Romans 3:25, ch.5,6)




... page 87



The "testimony of Jesus being the Spirit of Prophecy" is easy to associate, because he has ever been the "expression" of the ... Word of God. (Revelation 19:10)


His "blood" cried out the message, that God is the God of all life, as he said, "into Thy hands ... I commend my Spirit".


Everything ... that is within the testimony of the "blood" of Jesus ... is ours. He is ... our "blood" sacrifice, and more. He also has ... obtained the promise of the Holy Ghost for us, which not only bore witness to his sacrifice, that ... we are accepted as righteous, but also, so that we can be of service in His (Spirit Word) kingdom. (St. John 14:26, ch.15:26, ch.16:13, Acts 1:8, ch.2, ch.10:34-48, ch.11:15-18, Ephesians 1:13,14, ch.2:12-22, ch.4)



We are not to learn ... "about" him, and form "opinion", but rather, ... we need to die out to self, and ... become an "expression" of the "Word" of God's Spirit. (that's "prophecy")


Traditionalism, doesn't testify to the "life flow" ... of Spirit Word found ... in the "blood" of Christ. Their testimony is based mostly ... in "self" righteousness, and good intentions. They are obedient to everything other than the "utterance" of the Holy Ghost. (Romans 3:18-29, ch.5,6, Colossians ch.1, Revelation 19:13, 2 Peter 1:15-21, 1 Corinthians ch.2)


The importance of prophecy dates back to the first day that a human was alive on this earth. The original intent of God for mankind, was that he would be an "expression" of God's Word, and would take dominion over all the living creatures of ... the earth. Man was intended to live in the same life, and power, that Jesus exhibited. (Romans chs.5, and 8, 1 Corinthians ch.15, St. John 14:10-17,26) After his resurrection, Jesus became a quickening (life giving) Spirit. (St. John 6:53-63, ch.7:36-39, ch.12:23-28, ch.14:19,... page 88



"For whatsoever is born of God overcomes the world: and this is the victory that overcomes the world, ... even our faith.


Who is he that overcomes the world, but, he that believes that Jesus is the Son of God.


This is he that came ... by water (natural birth, St. John 3:5,6), and blood (testimony), even Jesus "Christ" (anointed, marked one); not by water only, but, by water and blood. And it is the Spirit that bears witness, because the Spirit is truth. (Spirit of prophecy)


For there are three that bear record in heaven, the Father, the Word, and the Holy Ghost: and these three are one.


And there are three ... that bear witness in the earth, the Spirit, and the water, and the blood: and these three agree in one.


If we receive the witness of men, the witness of God is greater: for this is the witness of God, which He has testified of His Son.


He that believes on the Son of God, has the witness in himself (St John 14:16,17, 1 Peter 4:10,11) (Spirit of prophecy), he that doesn't believe God, has made Him a liar: because he believes not the record ... that God gave of His Son.


And this is the record, that God has given to us eternal life, and this life ... is in His Son. (see also: St. John 5:24, ch.6:63)


He that has the Son has life; and he that has not the Son of God, ... has not life.


These things have I written unto you that believe on the name of the Son of God; that you may know ... that you have eternal life, and that you may believe on the name of the Son of God.


And this is the confidence that we have in Him, that if we ask anything ... "according to His will", ... He hears us:



... page 89



And if we know that He hears us, whatsoever we ask, we know that we have the petitions ... that we desired of Him.
And we know that we are of God, and the whole world lies in wickedness.


And we know that the Son of God is come, and has given us an understanding, that we may know Him that is true, and we are in Him that is true, (and) even in His Son, Jesus Christ. This is the true God, ... and eternal life." - 1 John 5:4-20




Prophecy


God creates, and restores, ... through prophecy. Prophecy precedes everything, including those good acts of "doing".


"Uttering the Holy Spirit's Word", doesn't come through carnal preparation, such as research and study, but rather, through repentance, humility, openness, ... and faith.


Somehow, the traditional church got from "Altar", to preacher; from prophetic knowledge, to "Bible Study Series", and events.


Every man, or woman, of God, ... that we read about in the record of scripture, was moved by the Spirit of prophecy, for there is no other way ... to serve God. That is why ... it is so important to be "in Christ" (the anointing of "intent", 2 Corinthians 5:17,18)


____




"And He said unto me, Prophesy upon these bones, and say unto them, O you dry bones, ... Hear the Word of the Lord." - Ezekiel 37:4


(see also: 1 Corinthians chs.2,12,13, and 14, Romans ch.8, Acts ch.2, esp. vs.16-18, 1 Peter 4:9-11)